There are numerous opportunities for residents to get involved with student organizations while living on-campus! Between Residential Housing Association, and several RHA Branches, there is an organization that fits the needs of every student. In addition to the various organizations available within Residential life, there are a plethora of leadership opportunities available at the campus level. Through the Student Life Initiative, SF State has seen an increase in the number of students living on-campus, the size of the incoming freshman class, and the portion of individuals coming from outside the San Francisco Bay Area.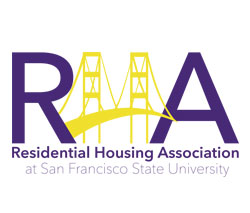 The Residential Housing Association at San Francisco State University is the governing body for the residential community and sponsors numerous activities with both educational and social programs throughout the year. Some of the programs that RHA has sponsored include the Halloween Harvest Festival and Haunted House, monthly Movie Nights, a breast cancer awareness volleyball tournament, and various other community programs, including excursions into downtown San Francisco. Additionally, RHA oversees the Housing Advisory Panel (HAP) which connects residents to University Administrators and helps communicate concerns of student residents. All of this is done in order to enhance the residents' experiences while living on-campus.
Everyone who lives on-campus, regardless of whether or not they are involved in the student organization as a student leader, is a member of RHA and is welcome and encouraged to participate in community events..
Roles of RHA
To bring together student leaders to have fun
To act in the best interests of residents at local and larger campus levels
To develop leadership skills in students
To encourage participation of residents in the community
To become involved in one of the many programs and organizations happening in the Residence Community, email rhaboard@sfsu.edu, or stop by the RHA office located in Mary Park Hall Lounge.
RHA Branches
Hall Government
Great opportunity for ANY resident to get involved with their residential area! Here you can serve as a peer advocate and put on community programs.
The Academy
Student housing residents interested in playing video games are able to do so weekly, and also host monthly tournaments.
Social media and other websites
Join SF State Residence Hall Association on Facebook
National Association of College and University Residence Halls